Use any VPN if online video player not working.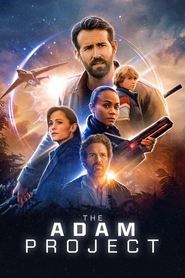 The Adam Project Watch Online
Synopsis:
Adam Reed travels through time to find his missing wife and meets his younger self. But they find out someone is miss-using the Time Travel tech, and they decide to save the future.
The Adam Project OTT

Adam Project is available to watch online on Netflix. Click below, and you will visit this movie's watch page on Netflix.
Is Adam Project Worth Watching?
Any Ryan Reynolds fan should be excited to watch this movie just by looking at the poster. And after watching the trailer, you should not be looking answer to this question, right?
But if that does not satisfy you. After watching Adam Project, I can say that this movie was really fun to watch. Sci-fi elements and fights are awesome. And, of course, the humor/ comedy is 10/10. So it's definatly worth watching.
The Adam Project Review: Best Time Travel Comedy
ALERT: This Review Containts Spoilers!
The Opening
The Adam Project movie's director is Shawn levy. Also directed the Free Guy movie and popular series Stranger Things.Although The Adam Project movie doesn't bring anything new for sci-fi fans, it's still. Entertaining.
The Adam Project starts with Adam Reeds, who is in a jet and chased by another aircraft in 2050. This scene is confusing because we don't know whats going on atm.
Time Travel:
But he escapes to the year 2022 by accident. Now the films start to focus on his younger self, how Adam's family got emotionally impacted after his dad's death, and how his young version gets bullied.
Seeing these moments and getting advice from his adult self changes the perspective for both versions.
Past Events:
And this is one of the fantastic things of time -travel. After Adam's father's death, young adam isn't sharing things. He is emotionally angry at his mom as if all of this were his mother's. Fault, but adult Adam knows and advises him to appreciate what she does for him. He might regrate his behavior towards his mom one day.
On the other hand, His adult version learns more about his mom and what she feels. He tells his young version that all of this bullying and difficult situation made him what he is now, so don't expect anyone else to solve this for him.
Fights:
Then we see the mysterious organization chasing him, and after finding him, the fights are fantastic. He uses a weapon that is kind of like a lightsaber. And even the enemy troops are wearing armor, so it does feel like watching star Wars fight but with better choreography.
Then we meet laura, Adam's wife. And If somehow you miss the trailer and just watched the movie. You wouldn't expect how badass she is in the film. They chose Zoe Saldana to play the role, which suits her character perfectly.
Climax & Ending:
After some fights, now both young and adult Adam time travel to 2018 to meet his dad and work with him to stop the time travel from happening.
There is more family drama, but it's somehow feet into the story and doesn't feel over the top. Well, it could be because of Ryan Ronald. His acting brings a joyful charm to the movie.
And they have done an excellent job at the climax, especially at ending scenes; it feels wholesome after watching the movie.
Conclusion:
The movie was terrific. The visual effects are perfect. Although I am a big sci-fi fan, I enjoyed more about the story and its hilarious moments. And it's a nine ot ten movie for me.